Muddy Tracks Pet Wash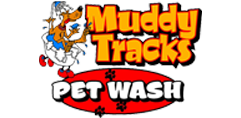 Muddy Tracks Pet Wash offers a stress-free experience to clean your pet. Our self-service wash takes 20 minutes or less and is friendly on your back with no bending necessary. The wash conveniently dispenses environmentally friendly shampoo, conditioner, and odor control before the high velocity forced air dryer quickly finishes the wash. It's that simple!
Muddy Tracks Pet Wash eliminates the need to drop your pet off at the groomer so often. You can enjoy a clean, fresh-smelling pet anytime. The wash features a lift and non-slip ramp for easy maneuvering of pets of all ages and abilities. Plus, Muddy Tracks is great for timid pets, as they will never interact with strangers or leave your side.
Come check out Muddy Tracks Pet Wash today - Your pet will love it and you will too!
Muddy Tracks Pet Wash
76 Pine Street
Contoocook, NH 03229
(603) 746-3456

Hours of Operation
6:00 am - 10:00 pm
7 Days a Week